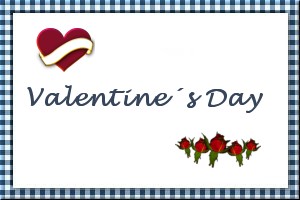 Creamy Valentine's Day Peppermint
Submitted by: Dixi
2 cups milk
half cup peppermint candy, crushed
1 1/2 pint vanilla ice cream
Place milk and peppermint candy in electric blender. Mix well. Add ice cream and process until smooth and creamy. Makes 6 ounce servings.

Secret Kiss Cookies I
Submitted by: Dixi
1 1/3 sticks butter (about 11 tablespoons)
1/4 cup powdered sugar
1 tablespoon ice water
1 tablespoon vanilla
2 cups flour
1 cup pecans, finely chopped
1 bag chocolate kiss candies, unwrapped (7 ounces)
powdered sugar
Cream together flour, 1/4 cup powdered sugar, and ice water. Blend in flour, vanilla, then add nuts. Wrap one tablespoon of dough around each Kiss. Bake at 350°F for 35 to 45 minutes or until dough is just lightly browned. Roll each cookie in powdered sugar while warm. Makes about 3 dozen.

True Love Pancakes
Submitted by: KatjaGirl
1 egg
1 cup milk
2 teaspoon oil
1 cup pancake and waffle mix
1 cup cranberry almond crunch cereal
yogurt (2 glases)
Beat the egg in large bowl. Stir in milk and oil. Add pancake and waffle mix. Stir just until moistened. Stir in cereal. Let stand 5 minutes. Pour 1/2 cup batter onto hot griddle for each pancake, creating a heart shape. Cook until bubbles form on top. Turn to brown other side. If desired, sprinkle with powdered sugar and serve with strawberry yogurt, fresh sliced strawberries and syrup. Makes 2 servings.

To submit your favorite recipes to be included in the Garden of Friendship Recipe Book, please email them to Barbiel
Background graphics made especially for the Recipes Committee of the Garden of Friendship by Valatine