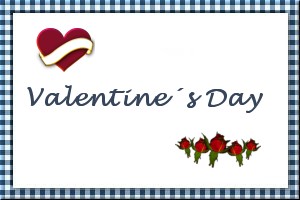 Valentine Breadsticks
Submitted by: LisaW
1 (11 ounce) can refrigerated soft breadsticks
2 tablespoons KRAFT 100% Grated Parmesan Cheese
dash of pepper (optional) to taste
1/2 teaspoon dried thyme leaves, crushed
Twist 2 pieces breadstick dough together; form into heart shape. Place on cookie sheet. Repeat with remaining breadstick dough. Sprinkle hearts with cheese and thyme. Bake at 350°F for 15 to 18 minutes or until lightly browned.

Spiced Dried Aubergine
Submitted by: Barbiel
1 kg aubergines (= eggplants)
1/2 kg tomatoes, diced
1/2 garlic clove, minced
salt to taste
fresh ground pepper to taste
oregan (as much as desired) to taste
1 cup vegetable oil (your preference)
Olive oil for layers
1/2 teaspoon red vinegar (optional)
dash of clove powder (really minimal)
Wash and cut eggplants in slices about 1 cm thick. Pour some salt over them (will remove humidity) and let rest for some minutes. In an oven form (or Pirex), place eggplants slices and diced tomatoes in one some Olive oil, leaving place between them. Bake in 170°C for 25 minutes. Turn eggplants and let bake until smooth. Reserve and let them cool. Mix Olive oil with oregan, salt and pepper, vinegar (if desired), garlic and clove powder. Adjust seasoning (if spicy, more pepper, or oregan, etc) and place (layer) them in layers this way:
1 - eggplants slices
2 - Olive oil
Go on this way until done. If needed, pour some more Olive oil until whole finished layer is covered. Let mixture rest for some days to adquire taste. Serve (cold) with toast bread or French Baguette or even as a (warm) sauce for noodles or rice or baked potatoes.
Note from Barbiel: Mixture to be kept about three days in refrigerator (do not freeze... color will change and won't look very yummy...).
My recipes have always no exactly measurements since I only cook "for fun".I experiment with ingredients and my results are always different,so just try your own way.

Cherry Fudge Bars
Submitted by: Praying Bear
1 box fudge cake mix
2 eggs
1 21oz. can cherry pie filling
Mix well and spread into a greased 9x13" pan. Bake for about 23 minutes at 350°F. While the bars are baking, in a heavy saucepan, place 4 tablespoons margarine, 1/3 cup milk, and 1 cup sugar. Have 1 cup chocolate chips measured and ready to add. The last few minutes of baking time, cook and stir until sugar is dissolved, and boil mixture for 1-1 and 1/2 minutes. Add chocolate chips and stir until well blended. Pour the frosting and spread quickly over the hot bars. Cool for about 15 minutes. Cut into bars while still warm. These are very moist.

To submit your favorite recipes to be included in the Garden of Friendship Recipe Book, please email them to Barbiel
Background graphics made especially for the Recipes Committee of the Garden of Friendship by Valatine