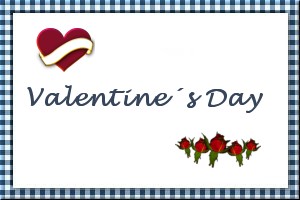 Splendid Raspberry Spinach Salad
Submitted by: Cookie
2 tablespoons raspberry vinegar
2 tablespoons raspberry jam
1/3 cup vegetable oil
8 cups spinach, rinsed, stemmed and torn into pieces
3/4 cup coarsely chopped Macadamia nuts
(or toasted almond slices)
1 cup fresh raspberries
3 kiwis, peeled and sliced
Dressing: Combine vinegar and jam in blender or small bowl. Add oil in thin stream, blending well.
Toss spinach with 1/2 of the nuts, 1/2 of the raspberries, 1/2 of the kiwis and the dressing. Top with the remaining ingredients (nuts, raspberries and kiwis.) Serve immediately. Serves 2-4.

Valentine Tomato Soup
Submitted by: Barbiel
3/4 teaspoon olive oil
1/3 cup and 1 tablespoon chopped green bell pepper
1/3 cup and 1 tablespoon chopped onion
3/4 clove garlic, minced
3/4 (14.5 ounce) can diced tomatoes
1 cup and 3 tablespoons water
2-1/2 teaspoons minced fresh basil
3/4 teaspoon chicken bouillon granules
1/4 teaspoon ground black pepper
3/4 (10 ounce) package frozen chopped spinach, thawed
In a large saucepan over medium heat, cook bell pepper, onion and garlic in oil until tender. Stir in tomatoes, water, basil, bouillon and black pepper. Bring to a boil, then reduce heat and simmer 10 minutes. Stir in spinach and cook 5 to 7 minutes more. Makes 4 servings.
Note: The soup tastes fantastic if you add 2 tablespoons cherry to the ingredients.

My Best Lover
Submitted by: Barbiel
1-1/2 (6.5 ounce) cans minced clams
1/2 cup minced onion
1/2 cup diced celery
1 cup cubed potatoes
1/2 cup diced carrots
1/4 cup and 2 tablespoons butter
1/4 cup and 2 tablespoons all-purpose flour
2 cups half-and-half cream
1 tablespoon red wine vinegar
3/4 teaspoon salt
ground black pepper to taste
Drain juice from clams into a large skillet over the onions, celery, potatoes and carrots. Add water to cover, and cook over medium heat until tender. Meanwhile, in a large, heavy saucepan, melt the butter over medium heat. Whisk in flour until smooth. Whisk in cream and stir constantly until thick and smooth. Stir in vegetables and clam juice. Heat through, but do not boil. Stir in clams just before serving. If they cook too much they get tough. When clams are heated through, stir in vinegar, and season with salt and pepper. Serves 4.

To submit your favorite recipes to be included in the Garden of Friendship Recipe Book, please email them to Barbiel
Background graphics made especially for the Recipes Committee of the Garden of Friendship by Valatine