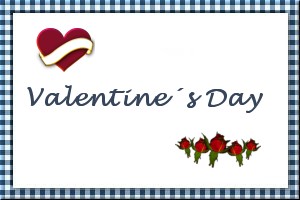 Valentine Beet Soup with Heart-Shaped Croutons
Submitted by: Barbiel
1 medium onion
1 small potato
1 pound raw beets
2 tablespoons butter or margarine
5 cups vegetable stock
3 tablespoons cider vinegar
1 teaspoon Vegex (available in natural food stores) vegetable bouillon cube
salt and pepper to taste
Sour cream or yogurt to garnish (optional)
chopped parsley to garnish
Chop vegetables. Melt butter and saute onion until transparent. Add potato, beets, and stock and bring to a boil. Reduce heat, cover, and simmer for 30 minutes. Allow to cool before blending in small batches in blender. Return to saucepan, add vinegar, Vegex, salt and pepper. Reheat to serving temperature. Before serving, stir in Sour cream, top with Croutons (see recipe below) and chopped parsley. May be served warm or chilled. Serves 6.
Croutons:
3 slices slightly stale farm bread
2 tablespoons Olive oil
cayenne pepper (optional)
Using a cookie-cutter, cut the bread into heart-shapes, around 1 inch in diameter or smaller. Heat oOive oil in a skillet over medium flame and saute bread hearts until golden brown on both sides. Sprinkle with cayenne, if desired, and serve warm or cooled on top of soup.

Lobster Salad
Submitted by: Barbiel

1 cup cooked lobster meat

3 cups cooked rice

1/4 cup sliced celery

1/4 cup sliced pimento-stuffed olives

1/4 cup chopped bell pepper

1/4 cup chopped pimento

1/4 cup minced onion

1/2 teaspoon salt

1/4 teaspoon pepper

3 tablespoons mayonnaise or Miracle Whip

2 tomatoes, cut into wedges

1 lemon, cut into wedges

Combine lobster, rice, celery, olives, bell pepper, pimento and onion in large bowl. Cover and chill. Just before serving, stir together salt, pepper and mayonnaise. Toss with lobster mixture. Spoon onto lettuce. Garnish with tomato wedges. Serve with lemon wedges. Makes 6 servings.

Tomato-Bread Salad
Submitted by: Barbiel

6 medium to large tomatoes, cut into large chunks

3 tablespoons coarsely chopped fresh basil

4 tablespoons balsamic vinegar

Preheat oven to 300║F. Split the baguette lengthwise. Rub the cut side of one half very well with the mashed garlic. Brush liberally with olive oil. Cut the garlicked baguette half in half again lengthwise, and then cut these strips into 3/4 inch pieces. Place the croutons on a baking sheet, crust side down. Bake 30 minutes, until dark golden. If croutons are made in advance, put the tomatoes in a large mixing bowl a bit before you intend to mix the salad, then drain off and discard any juice that may accumulate. To serve, add the croutons, onion, and basil to the California tomatoes. Whisk the vinegar and oil for the vinaigrette. Pour over all and toss. Serves 6.

To submit your favorite recipes to be included in the Garden of Friendship Recipe Book, please email them to Barbiel
Background graphics made especially for the Recipes Committee of the Garden of Friendship by Valatine