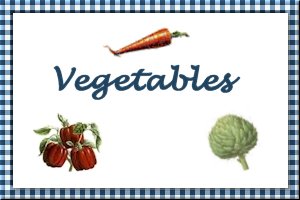 Spinach Squares
Submitted by:Cheri
2 10-ounce packages spinach
4 eggs, beaten
1 1/2 cup butter or oleo, melted
2 tablespoons parsley flakes
2 cup cheddar cheese
1/2 teaspoon thyme
1 1/2 teaspoon salt
2 cup cooked rice
1/2 cup chopped onion
1/2 teaspoon nutmeg
1 teaspoon Worcestershire sauce

Cook spinach as pakcage directs; drain. Combine eggs, milk, butter, parsley flakes, Worchestershire sauce, thyme, nutmeg and onion. Add spinach, rice, and cheese. Pour into 9 x 13 greased pan. Bake in a 350 degree oven for 45 minutes.

Apple-Glazed Carrots
Submitted by: Jezebel Jen
1 tablespoon butter
1 16-ounce package peeled trimmed baby carrots
1 cup unsweetened apple juice
1 teaspoon honey
1 tablespoon minced green onion tops

Melt butter in large nonstick skillet over medium-high heat. Add carrots and sauté until carrots begin to brown slightly, about 8 minutes. Add apple juice and honey and bring to boil. Reduce the heat and simmer until carrots are tender and liquid is reduced to glaze, stirring occasionally, about 15 minutes. Season to taste with salt and pepper. Transfer to bowl. Sprinkle with green onion tops and serve. Serves 4.

Asparagus with Creamy Mushroom Dressing
Submitted by: Jezebel Jen
3 pounds asparagus, bottoms trimmed
1/2 pound mushrooms, very thinly sliced
3 tablespoons fresh lemon juice
1/2 cup whipping cream
2 tablespoons Dijon mustard
1/3 cup olive oil
1 teaspoon packed chopped fresh tarragon or 1/2 teaspoon dried
Cook asparagus in large pot of boiling salted water until just crisp-tender, about 4 minutes. Drain; rinse under cold water. Drain; pat asparagus dry. (Can be prepared 1 day ahead. Wrap in paper towels and plastic bags; refrigerate.) Toss mushrooms with lemon juice in medium bowl; season with salt and pepper. Whisk cream and mustard in small bowl to blend; gradually whisk in oil. Let mushroom mixture and dressing stand 30 minutes or cover and refrigerate up to 2 hours. Arrange asparagus on platter. Whisk tarragon into dressing. Drain mushrooms well and return to bowl. Mix in dressing. Season to taste with salt and pepper. Spoon mushroom dressing over asparagus and serve. Serves 8.

To submit your favorite recipes to be included in the Garden of Friendship Recipe Book, please email them to Barbiel
Background graphics made especially for the Recipes Committee of the Garden of Friendship by Valatine