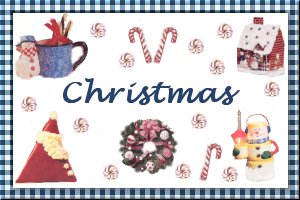 English Christmas Bread
Submitted by: Brenda
4 1/2 cups flour
1/2 cup sugar
1 teaspoon salt
3/4 teaspoon cinnamon
1 teaspoon nutmeg
2 packages dry yeast
1 cup milk
1/2 cup water
1/2 cup oleo
3/4 cup raisins
Powdered sugar glaze

Mix 2 cups flour, sugar, salt, spices and yeast. Combine milk, water and oleo; heat until warm; gradually add dry ingredients. Beat 2 minutes. Add half of flour and beat 2 more minutes. Add remaining flour a little at a time to make a soft dough; knead until smooth. Let rise until doubled. Knead in raisins. Divide dough in half and place in loaf pans. Bake at 375 degrees for 30-35 minutes. Remove from pans when cool and drizzle with powdered sugar glaze. Garnish with raisins, nuts and maraschino cherries.

Apricot Christmas Ring
Submitted by: Sugie
1/2 cup warm milk
1 package active dry yeast
1/2 cup butter or margarine, softened
3 large egg yolks
1 tablespoon vanilla extract
1/2 cup sugar
2 2/3 cups all-purpose flour
1 cup dried apricots, chopped
2/3 cup golden raisins
1 large lemon peel, grated
1/2 teaspoon salt
3 large egg whites
Powdered sugar, sifted
3 tablespoons dark rum (optional)
Heat milk; dissolve yeast in milk. Stir in 2 tablespoons of the sugar and set mixture aside for about 5 minutes. Meanwhile, in mixer bowl, cream butter on high speed of electric mixer, adding remaining sugar gradually, until light and fluffy. Stir in yeast mixture. Add the egg yolks and vanilla. Stir until well blended. Stir together the flour, apricots, raisins, lemon peel, and salt. Beat into butter mixture with a spoon until well mixed. Beat egg whites until stiff. Fold whites into batter until no traces of white remain. Turn batter into greased 9 or 10-inch tube pan. Cover and let rise for about 1 hour. Bake at 375 degrees for 30-35 minutes until golden. Cool 15 minutes and remove from pan. Sprinkle with rum and powdered sugar, if desired. Cool complety.

Christmas Tree Bread
Submitted by: Yahoo Clubs.
2/3 cup milk
1/2 cup granulated sugar
1 large egg, yolk and white separated
3/4 cup (4 ounces) diced dried fruit mix
2 1/2 cups all-purpose flour
1 tablespoon baking powder
1/2 teaspoon salt
1 1/2 teaspooons pumpkin pie spice or 3/4 teaspoon ground cinnamon & 3/4 teaspoon ground cloves
1 stick cold, unsalted butter, cut to small pieces
Granulated sugar

Check to see that one rack is in bottom third of oven and heat oven to 425 degrees. Measure milk in a 2-cup measure, add sugar and egg yolk, stir to mix well. Stir in dried fruit. Let stand until ready to use. Put flour, baking powder, spice, and salt into a large bowl, stir to mix well. Add butter and cut in with pastry blender or rub in with fingers, until mixture looks like fine granules. Stir milk mixture and pour over flour mixture. Stir with a fork until a soft dough forms. Turn out dough onto a lightly floured surface and give 10 kneads. (If very sticky, let stand 3 or 4 minutes or add a little more flour.) Cut off about one-fourth of the dough. Put remaining dough on an ungreased cookie sheet at least 16 inches long. Using both rolling pin and fingers, pat and roll dough into a flat triangle about 12 inches long and 9 inches wide across the bottom. With scissors, make about ten diagonal cuts down each long side of the triangle, cutting to within about 1 inch of the center. Shape a small piece of reserved dough into a trunk at bottom of tree and remaining dough into a "pot." Dough may now be covered with plastic wrap and refrigerated for a couple of hours or frozen for up to 2 weeks. Bake tree 10 minutes. Beat egg white with a fork until broken up. Brush over hot bread, sprinkle with sugar. Bake 5 to 8 minutes longer, until light brown. With two spatulas, carefully transfer tree to a wire rack. If possible, cool at least 2 hours before serving. Let guests break off small pieces.
Yield: 12 small servings.

To submit your favorite recipes to be included in the Garden of Friendship Recipe Book, please email them to Barbiel
Background graphics made especially for the Recipes Committee of the Garden of Friendship by Valatine