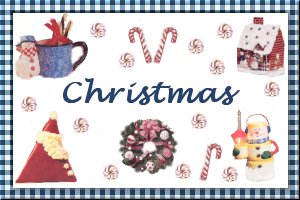 Chili Pepper Christmas Cookies
Submitted by: Just Taffy
Cookie Dough:
12 tablespoons unsalted butter
3/4 cup sugar
1 large egg
1 tablespoon finely grated lemon zest
1 teaspoon pure vanilla extract
2 1/4 cups all-purpose flour
1/4 teaspoon salt

Cookie Paint:
2 large egg yolks, lightly beaten and separated in equal portions with red & green food coloring
Preheat oven to 350°F. Soften the butter. In a mixing bowl, cream together sugar and butter, add egg, lemon zest and vanilla. Beat until blended. Whisk together flour and salt, gradually add them to creamed mixture, on low speed. Add water, a few drops at a time, until dough starts to come away from the side of the bowl. Roll dough out to 1/8-inch thickness on a lightly floured surface. Cut out chile pepper shapes, using a cookie cutter or freehand. Transfer shapes to greased or nonstick cookie sheets. Using a few drops of food coloring at a time, color the egg yolk in each cup, as desired. Using a small, clean paint brush, paint the chile pepper red and its stem green. Bake 8-12 minutes or until the cookies begin to brown around the edges. Dust with red or green sprinkles if desired.

Snow Ball Cookies
Submitted by: Yahoo Clubs
1 cup butter, softened
1/3 cup sugar
1 tablespoon water
1 teaspoon vanilla
1 cup finely chopped pecans
Powdered sugar
In a large bowl beat softened butter. Add sugar and mix till creamy. Add water and vanilla; mix well. Add as much flour as you can with mixer. Stir in remaining flour and pecans. Shape into 1-inch balls. Can make into logs. Place on ungreased cookie sheet, 1-inch apart. Bake at 325°F about 20 minutes or until bottoms are lightly browned. Let cool on a wire rack. Roll cooled balls (or logs) in powdered sugar. Can decorate with colored sugar sprinkles. Makes about 36 balls.

Caramel Shortbread Squares
Submitted by: Barbiel
2/3 cup butter, softened
1/4 cup white sugar
1 1/4 cups all-purpose flour
1/2 cup butter
1/2 cup packed light brown sugar
2 tablespoons light corn syrup
1/2 cup sweetened condensed milk
1 1/4 cups milk chocolate chips
Preheat oven to 350°F (175°C). In a medium bowl, mix together 2/3 cup butter, 1/4 cup white sugar, and 1 1/4 cup flour until evenly crumbly. Press into 9" square baking pan. Bake for 20 minutes. In a 2 quart saucepan, combine 1/2 cup butter, brown sugar, corn syrup, and sweetened condensed milk. Bring to a boil. Continue to boil for 5 minutes. Remove from heat and beat vigorously with a wooden spoon for about 3 minutes. Pour over baked crust (warm or cool). Cool until it begins to firm. Melt chocolate and pour over caramel layer. Cover the layer completely. Chill. Cut into small squares. Makes one 9x9 inch pan (16 servings).

To submit your favorite recipes to be included in the Garden of Friendship Recipe Book, please email them to Barbiel
Background graphics made especially for the Recipes Committee of the Garden of Friendship by Valatine