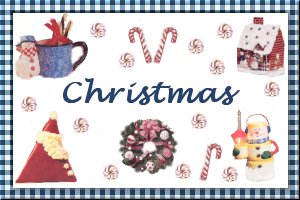 Large Candy Cane Cookies
(I remember my mother making these when I was a little girl..)
Submitted by: Praying Bear
3/4 cup butter or margarine, softened
3/4 cup granulated sugar
1/3 cup milk
1 egg
1 teaspoon Vanilla extract
1/2 teaspoon Peppermint extract
2 2/3 cups all-purpose flour
3/4 teaspoon baking powder
1/4 teaspoon salt
1/2 teaspoon red food color
In a large bowl, beat butter and sugar until light and fluffy. Beat in milk, egg, Vanilla extract and Peppermint extract. Stir in flour, baking powder and salt until well blended. Divide dough in half. Knead food color into one half of dough. Wrap each half in plastic wrap and refrigerate until firm, about 1 hour. Preheat oven to 350°F. On floured surface, roll a heaping tablespoonful of tinted dough into a 12-inch long rope. Repeat with a heaping tablespoonful of plain dough. Place the two ropes side by side. Twist together, lightly pressing ends together. Place on ungreased baking sheet. Curve one end of dough to form handle of cane. Repeat with remaining dough. Bake for 10 to 12 minutes or until very lightly browned. Cool cookies completely on wire racks. Yields: 12 cookies.
Note: Cookies may be sprinkled with plain granulated sugar before baking, if desired.

Almond Snowballs
Submitted by: Lady Lynda
2 egg whites
pinch coarse salt
1/3 cup sugar, eyeball it
1 1/2 cups, about 6 ounces, shredded coconut
1 teaspoon almond extract, eyeball it
1/4 teaspoon grated or ground nutmeg
3 tablespoons all-purpose flour
9 candied red cherries, halved
1/4 cup sliced almonds
Preheat oven to 350°F. In a mixing bowl, beat egg whites and salt to soft peaks, then add sugar and beat again until peaks are stiff. Beat in almond flavoring. Using a rubber spatula wooden spoon, stir in half of the coconut. Sprinkle in the nutmeg and flour, stir, then fold in the remaining coconut. Using a melon baller or other small scoop, or working with 2 spoons, form 9 "snowballs" a couple of inches apart on each of 2 cookie sheets. Bake snowballs 12 to 15 minutes, until lightly golden. Remove from oven and garnish each snowball with half a cherry and a couple of slivered almonds. Transfer to a rack or serving plate to cool. Yield: 18 snowballs (small scoop) 9 snowballs (large scoop).

White Chocolate-Raspberry Bars
Submitted by: Selena
1 (18 oz) roll refrigerated sugar cookie dough (Pillsbury)
1-1/4 cup white chocolate chunks or white vanilla chips
1 (12oz) jar (3/4 cup) raspberry jam or preserves
1 teaspoon oil
Heat oven to 350°F. Break up cookie dough into ungreased 13x9 inch pan. With floured fingers press dough evenly in bottom of pan to form crust. Sprinkle one cup of the white chocolates chunks over crust press firmly into dough. Bake at 350°F for 16 to 20 minutes or until light golden brown. Remove partially baked crust from oven. Spread jam evenly over crust return to oven and bake for an additional 10 minutes. Cool 1 hour or until completely cooled. In small ziplock bag combine remaining white chocolate chunks and the oil partially seal bag. Microwave on high for 30 seconds squeeze bag until chunks are smooth. If necessary microwave an additional 15 to 30 seconds. Cut small hole in bottom corner of bag squeeeze bag gently to drizzle white chocolate over bars. Refrigerate about 20 minutes or until chocolate is set. Cut into bars serve at room temperature. Yield 48 bars.

To submit your favorite recipes to be included in the Garden of Friendship Recipe Book, please email them to Barbiel
Background graphics made especially for the Recipes Committee of the Garden of Friendship by Valatine