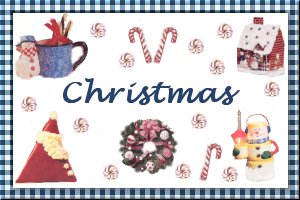 A Christmas tree is only so big, which means
not everyone can decorate it at the same time.
And there's only so much room at the buffet table, so
that leaves a few people looking for something fun to do.
Here's a solution--
They can build and decorate this easy gingerbread house.
And, just like our own homes, this one can be decorated
and landscaped according to our personal tastes.
Yes, I do mean tastes!

Gingerbread House
Submitted by: Sugie
House:
5 cups all-purpose flour
2 tespoons ground cinnamon
2 teaspoons ground ginger
1/2 teaspoon ground cloves

1/2 teaspoon baking soda
1/2 teaspoon salt
1 cup vegetable shortening
1 cup sugar
1/2 cup molasses
2 eggs
House: Using cardboard or waxed paper, cut 1 pattern for each piece shown below. Preheat the oven to 350 degrees. In a large bowl, combine the flour, cinnamon, ginger, cloves, baking soda, and salt; mix well and set aside. In another large bowl, beat the shortening and sugar until creamy. Add the molasses and eggs; beat until well combined. Slowly stir in the flour mixture until a smooth dough forms. Divide the dough into three balls. Place one ball of dough on the back of a cookie sheet. Using a lightly floured rolling pin, roll out the dough to a 1/8-inch thickness. Using the patterns, use a sharp knife to cut out two front/back pieces; remove any excess dough from around the pieces. Bake for 10 to 12 minutes, or until lightly browned around the edges. Allow to cool slightly, then remove to wire racks to cool completely. Meanwhile, repeat with another dough ball, cutting and baking two side pieces. Repeat with the third dough ball, cutting and baking two roof pieces. Form the scraps into a ball, roll out, and cut and bake one base piece.
ICING: 3 1/2 cups confectioners' sugar
3 egg whites or equivalent in egg white powder
(If raw egg whites are used, house should not be eaten)
In a large bowl, beat the confectioners' sugar and egg whites until smooth. Place in a pastry bag with a small tip (or place in a resealable plastic storage bag and cut a tiny piece off a bottom corner of the bag).
Assembly: Place the base flat side down in the center of a large platter or piece of foil-wrapped cardboard. Lay the sides and ends of the gingerbread house flat side down around the base. Pipe icing all around the edges of each piece. Carefully lift and press the edges of the back piece and one side together, sealing with the icing. Lift the front piece and the remaining side and hold in place until the house is secure; let stand for a few minutes. Add additional icing to strengthen the joints. Place one roof piece in place. Pipe icing along the inside edge of that piece and place the second roof piece in place. Pipe icing along all the seams of the house for extra support and allow to dry. Add frosted mini shredded wheat "shingles" to the roof and a graham cracker "chimney," "windows," and "doors," securing them with icing. Pipe icing "icicles" all around the lower edges of the roof. Decorate the house and yard with any of the following, using the icing as the glue:
Gumdrops, hard candies, M&M's, marshmallows, red-hot cinnamon candies, spearmint leaves (they make great trees!), or anything else you dream up!

To submit your favorite recipes to be included in the Garden of Friendship Recipe Book, please email them to Barbiel
Background graphics made especially for the Recipes Committee of the Garden of Friendship by Valatine