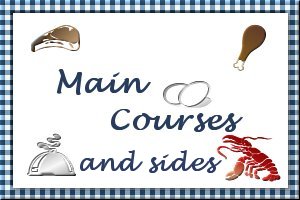 Sesame Soy Beef Stir-Fry
Submitted by: Lady Lynda
2 tablespoons reduced-sodium Soy sauce
1/4 cup water
2 teaspoons dark Sesame oil
2 teaspoons cornstarch, dissolved in 1/3 cup water
1 pound beef round tip steaks or beef sirloin cut 1/8 to 1/4-inch thick
4 cups hot cooked brown rice
1 (16 oz.) package frozen vegetable mixture with broccoli and red peppers
In medium bowl, combine Soy sauce and Sesame oil. Trim beef of all visible fat. Stack beef steaks and cut lengthwise in half and then crosswise into 1-inch wide strips. Add beef to marinade in bowl. Toss to coat. Heat large non-stick skillet over medium-high heat until hot. Add beef, half at a time, and stir-fry 1 minute or until outside surface is no longer pink. Do not overcook beef. Remove from skillet and keep warm. In same skillet, combine vegetables and 1/4 cup water; cook 4 to 5 minutes or until water is almost evaporated and vegetables are hot, stirring occasionally. Combine cornstarch and water, add to vegetables and cook one more minute until thickened and bubbly. Return beef to skillet; heat through. Serve over rice. Yield: 6 servings.
Note: Sesame oil gives a unique flavor to this recipe.

Bison Chili
Submitted by: Merribuck
4 cups diced onions
1 roasted poblano, seeded and diced
1/2 cup diced celery
2 cups diced bell peppers
1/2 cup minced garlic
2 1/2 pounds ground bison
9 ounces dark chili powder
1 tablespoon cumin
1 tablespoon cayenne pepper
1 (10-pound) can diced tomatoes
1 (5-pound) can kidney beans
1 (5-pound) can black beans
24 ounces tomato-vegetable juice
Sauté onions, poblanos, celery, bell peppers, and garlic until translucent. Add meat and saute together. Mix together chili powder, cumin and cayenne pepper and add to meat and vegetable mixture. Add diced tomatoes, kidney beans and black beans. Add tomato-vegetable juice. Let simmer for 40 minutes, stirring occasionally. Yield: 2 1/2 gallons.

Braised Bison with Mushroom in Sage Gravy
Submitted by: Merribuck
2 lb. lean bison chuck or round steak, cut into 2-inch cubes
1 tablespoon Balsamic vinegar
1/2 teaspoon fresh ground black pepper
2 teaspoons minced fresh sage
2 tablespoons oil
1 cup chopped onions
2 cloves garlic, minced
2 tablespoon flour
1 cup Cabernet Sauvignon wine
1 cup beef stock
1/2 cup dried wild mushrooms, rehydrated in 1/2 cup hot water
1 tablespoon chopped fresh sage
salt to taste
pepper to taste
Combine bison with vinegar, pepper and 2 teaspoons of sage and marinate at room temperature for 30 minutes. Heat the oil in a Dutch oven and brown the bison over high heat in batches. Set aside the meat as it's cooked. Add the onions and garlic to the drippings in the pan and sauté 5 minutes, until beginning to brown. Add the flour and stir to combine. Slowly stir in the wine, stock, and wild mushrooms with their soaking liquid. Return the meat to the pan and bring to a boil. Cover, reduce heat to low and simmer the stew for 1-2 hours or until the bison is very tender. Stir in the fresh sage and season with salt and freshly ground black pepper to taste. Yield: 4 servings.
Note: This modern interpretation of a traditional Native stew is slow cooked and flavored with fresh sage, a wild plant on the prairies. Serve it over Wild Rice Fritters for traditional taste.

To submit your favorite recipes to be included in the Garden of Friendship Recipe Book, please email them to Barbiel
Background graphics made especially for the Recipes Committee of the Garden of Friendship by Valatine