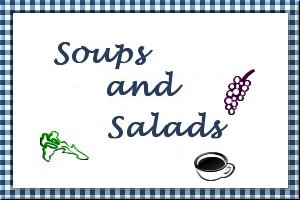 Fantasy Dressing
Submitted by: Barbiel

1 tablespoon flax seeds

1 tablespoon sesame seeds

1 tablespoon sunflower seeds

8 almonds

1 tablespoon pumpkin seeds

1 tablespoon honey

1 cup raisins

4 tablespoons hot water

Grind all dry ingredients in coffee grinder (you may have to separate the mix into two batches). Grind raisins or date pieces until soft. Mix all dry ingredients, then add hot water to desired texture. This will thicken in a matter of one to two minutes so donít be afraid to allow it to be a little runny. No need to add any oil. Tastes very good with mixed green lettuce (3 different sorts of it). Makes 1 cup dressing, serving 4.
Note: Almonds can be replaced with just about any nut. Raw cashews are simply heavenly.

Mustard Dressing
Submitted by: Barbiel
1/4 cup sugar cane
1 clove garlic

2 tablespoons mustard

1 teaspoon flax seeds

2 tablespoons chives finely diced

2 teaspoons poppy seeds

juice from 1 lemon

1/4 cup flax oil

2 tablespoons sesame seeds, powdered

salt and pepper to taste
Blend all ingredients until smooth. Makes 1 cup dressing.
Note: To be used in any salad your choice.

Basil Pesto
Submitted by: Barbiel
3 cups fresh basil leaves
3 tablespoons grated Parmesean cheese
2 tablespoons pine nuts
2 garlic cloves, cut up
1 cup extra-virgin olive oil, plus more for storing
salt and pepper
Pulse basil leaves, cheese, pine nuts, and garlic in a food processor until finely chopped. With the machine running, pour in olive oil in a thin, steady stream, blending until the mixture is well combined and emulsified. Do not overprocess or it will be too liquidy. You want to be able to see the texture of the ingredients. Serve pesto with a long, thin pasta such as fettuccine or spaghetti or a Spaghetti Salad. Store in an airtight container covered with a thin layer of oil (to preserve color) in the refrigerator for up to 1 week. Makes 2 cups.

To submit your favorite recipes to be included in the Garden of Friendship Recipe Book, please email them to Barbiel
Background graphics made especially for the Recipes Committee of the Garden of Friendship by Valatine