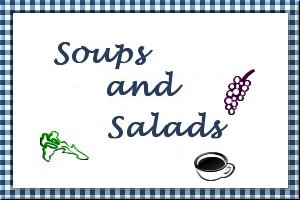 Greek Style Salad
Submitted by: Barbiel
red leaf for the lettuce
2 tomatoes, sliced
1/2 cucumber, sliced
3 small radishes, sliced
Feta cheese, cubed
fresh oregano
salt and pepper to taste
juice from one lemon
Wash red leaf and cut in small portions. Add the other ingredients. Season with lemon juice, salt and pepper. Serves 4.
Note: Authentic Greek salads use fresh lemon, not vinegar.

Spaghetti Salad
(a cold summer salad)
Submitted by: Barbiel
4 medium tomatoes, peeled, chopped
1 medium cucumber, chopped
1 small green pepper, seeded, chopped
1 small onion, chopped
1 cup black olives, chopped
1/4 cup fresh parsley (or 1 1/2 tablespoons dried)
8 oz. spaghetti or fettuccine, cooked, drained
1 cup crumbled Feta cheese (4 oz.)
1 small zucchini, chopped
salt and pepper to taste
Combine all salad ingredients in a large bowl. Mix with your favorite dressing or Basil Pesto, drizzle over salad, and toss. Chill for an hour. Serves 6.

Beef Salad with Pickles, Tomatoes and Celery
Submitted by: Barbiel
8 ounces cooked roast beef
1/2 cup dill pickles
1 medium tomato
1 celery stick
1/2 cup vinaigrette (your choice)
salt and pepper to taste
1/2 teaspoon garlic powder
1 teaspoon Dijon mustard
1 teaspoon chopped parsley
1 teaspoon chopped tarragon
1 teaspoon chopped chives
1 hard boiled egg
1 tablespoon green olives
Cut beef, pickles, tomato, and celery into julienne. Marinate in vinaigrette containing seasonings and herbs. Before serving, decorate dish with sliced hard cooked egg and sliced olives. Makes 4 servings.

To submit your favorite recipes to be included in the Garden of Friendship Recipe Book, please email them to Barbiel
Background graphics made especially for the Recipes Committee of the Garden of Friendship by Valatine