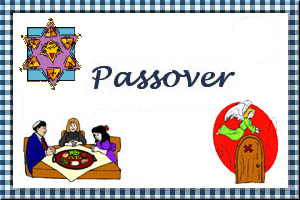 "In that which we share, let us see the common prayer of humanity.
In that which we differ, let us wonder at the freedom of humankind".

~ Jewish Prayer ~

Beverages - Punch

Banana Strawberry Frappe

Blue Lemonade

Cinnamon Liqueur

Coffee Soda
Guava Drink

Italian Chocoate Soda

Mango Lassi

Mulled Apple Ale

Peppermint Liqueur
Peach-Papaya Yogurt Smoothies

Salty Lassi
Spiced Tea Mix

Sugar Syrup (for Liquers)

Watermelon Lemonade


Breads

Braided Bread

Challa

Cottage Cheese Loaf

Herb Bread

Mandel Bread

Passover Banana Bread

Passover Chocolate Mandelbrot

Passover Cream Puffs

Passover Mandelbrot

Passover French Toast

Passover Rolls

Soda Bannock

Candies - Cookies

Cherry Biscotti

Chocolate Chips Cookies

Chocolate Nut Clusters

Coffee Meringue Cookies

Cranberry Cookie Kisses

Forgotten Cookies

Hamantaschen

Meringue Cookies

Meringue Drops

Orange Date Squares

Passover Butterballs

Passover Coconut Macaroons

Passover Cookies

Passover Cream Cheese Brownies

Passover Cupcake Blintzes

Passover Jam Buttons

Passover Macaroons

Passover Palestine Cookies

Passover Very Fudgy Brownies

Passover Walnut Cookies

Tu Beshvat Date-Nut Squares

Cakes - Desserts - Pies
Apple Cake

Apple Sponge Cake

Cake Meal Cheese Blintzes

Chocolate Walnut Torte

Chorosis

Cinnamon Apple Apricot Cake

Cool Cranberry Pie

Creamy Matzo-Apple Kugel

Espresso Truffle Torte

Festive Peach Passover Cake

Italian Passover Cake

Kiwi Sorbet

Kosher Chocolate Roll

Lemon Curd Tart

Maple Rice Pudding

Matza Kugel

Noodle Kugel

Passover Chocolate, Orange and Honey Cake

Passover Fruit Casserole

Passover Fruit Crisp with Coco-Loconut Topping

Passover Oatmeal Cake

Passover Rout Cakes

Passover Waffles

Pecan and Dried Fruit Kugel

Pecan Pie

Pineapple Ices

Saffron Cake

Sweet Potato Casserole

Sweet Potato Kugel

Casseroles - Fish - Main - Meats
Braised Capon with Pearl Onions

Brisket Roasted with Red Wine, Leeks, Tomato and Peppercorns

Broccoli and Lemon Dish
Chicken in Orange Sauce

Chicken Liver Mousse

Eggplant Casserole

Eggplant Lasagna

Gefillte Fish

Gefilte Fish Loaf Recipes

Greek Lamb

Honey Ginger Chicken

Lamb Shepards Pie

Lamb Stew

Lemon and Olive Chicken

Matza with Ground Meat

Passover Zucchini Stuffed Chicken

Potato-Kale Casserole

Prime Rib with Roasted Garlic and Horseradish Crust

Rosemary Roasted Leg of Lamb

Russian Potato and Mushroom Croquettes

Salmon Croquettes

Sweet and Sour Meatballs

Stuffed Roast Chicken

Veal Stew

Salads - Sides - Soups
Aubergine-Cheese-Tomato Casserole
Broccoli-Feta Cheese Pie

Broccoli Knishes

Borscht

Cabbage Soup

Cauliflower Fritters

Celery Root and Barley Soup

Chicken Soup

Cucumber Salad

Greens with Pears and Pecans Salad

Lentil and Tomate Soup

Matza Cheese Kugel

Matzo Ball Soup

Matzoh Balls

Miniature Potato Knishes

Moroccan Carrot and Spinach Salad

Onion Pudding

Passover Broccoli Kugel

Passover Soup with Chicken Dumplings

Passover Zucchini-Stuffed Chicken

Pickled Salmon

Potato and Vegetable Kugel

Potato Latkes

Potato Latkes I

Red Cabbage and Apples

Spring Vegetable Soup with Matzah Balls

Stewed Zucchini

Sweet Potato Latkes
Vegetable Kugel

Vegetable Kugel I

White Bean and Artichoke Salad



Miscellaneous

10 Minute Apple Sauce

Baked Farmer Cheese

Brine for Corning Beef
Brisket in Marinade

Broccoli Knishes

Cheese Latkas

Chopped "Liver" Spread

Chili Cumin Fried Fish

Cottage Cheese Pancakes

Eggplant Omelet with Coriander and Caraway

Falafel

Farfel (Falafel) Dressing

Gefilte Fish from a Jar

Ham and Cheese Ball

Haroset

Matzo Brei

Matzo Brei I

Matzoh Sttufing

Passover Brisket

Passover Noodles

Passover Pancakes

Potato Latkes with Variations

Salmon with Avocado-Dill Sauce

Traditional Charoset

Tzimmes

Winter Squash with Apricot Stuffing






What means Passover?

Passover is an eight-day Jewish holiday, of Biblical origin, marking the birth of the Jews as a people and their emergence as a unique
nation in history, devoted to God's will. It celebrates the liberation of the children of Israel from slavery in Egypt over 3.000 years ago,
under the leadership of Moses.


What is "Matzah?"

Matzah is a crisp, flat, unleavened bread, made of flour and water, which must be baked before the dough has had time to rise.
It is the only type of "bread" which Jews may eat during Passover, and it must be made specifically for Passover use, under rabbinical supervision.
Eating Matzoh on Passover commemorates the unleavened bread eaten by the Jews when they left Egypt in such haste that there was
no time for the dough to rise.

What is "Latkas?"

Latkas are nothing more than simply potato pancakes fried in oil. They taste wonderful and can be served either as a normal meal (with sour
cream or spicy sauce), or as a dessert (with jelly or fruit sauce) or as a side accomplishment to different meats or poultry dishes.


More Passover Infos



Midi: Dayenu



To submit your favorite recipes to be included in the Garden of Friendship Recipe Book, please email them to Barbiel
Background graphics made especially for the Recipes Committee of the Garden of Friendship by Valatine