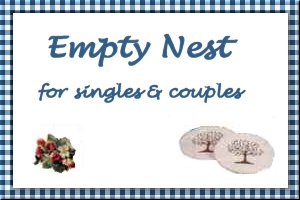 Cooking for one or two has never been an easy task.
Sometimes we feel it is easier for us to dine out rather than go through the trouble of trying
to find recipes suitable for small portions, for one person or two that can be easily doubled.

Well, now you can relax at home and prepare a meal just by following our
"Empty Nest" Recipes!

Cold Beverages
Bananaberry Freeze

Chocolate Buzz Milkshake

Eggnog

Frappucino

Honey Banana Shake

Iced Coffee

Mocha Coffee Chiller

Orange Cream

Orange Julius

Pina Colada
Pineapple Limeade

Raisin Bran Beverage

Southern Sweet Tea

Strawberry Smoothie

Thai Iced Tea

Hot Beverages

Almond Cocoa

Brandy Coffee

Brennan's Irish Coffee

Cafe Brulot

Cinnamon Tea

European

Hot Apple Punch

Hot Baja Coffee

Hot Cocoa

Hot Cranberry Drink

Hot Peppermint

Hot Toddy

Masala Chai

Mexican Coffee

Nogged Coffee

Old Fashioned Hot Buttered Rum

Orange Coffee

Orange Hot Chocolate

Spiced Hot Chocolate with Tea

Tea for Two

Breakfast
Apple and Cinnamon Oatmeal Pancakes

Apple Breakfast Bar

Baked Cheddar Toast

Banana Sour Cream Waffles

Breakfast Bruschetta

Breakfast Potatoes

Broccoli Quiche

Danish Hash with Fried Eggs

Frittata

German Pancakes

Gotta Run

Havana Style Eggs for Two

Minute Breakfast

Sausage-Cheese Breakfast

Scrambled Eggs with Cheddar Toast Points

Soft Cornbread

Spicy Omelet

Spinach-Egg Casserole

Main Course - Beef - Meats
Boeuf au Fromage

Braised Lamb Shank with Cumin Scented Mash, Sweet Roasted Parsnip and Braising Sauce

Country Fried Steak with White Gravy

Filet Mignon with Shallots and Cognac
Grandma's Pigs in The Blanket

Ground Beef with Microwaved Stuffed Green Peppers

Hamburger Casserole

Heart Smart Beef Stroganoff

Herb-Roasted Veal Chops

Meatloaf

Pepper Steak

Rib-Eye Steak with Stilton

Savory Steak Dinner

Stewed Rabbit with Peppers

Main Course - Poultry
Baked Chicken 'n' Potatoes

Braised Chicken with Pasta
Cashew Chicken

Chicken and Bowties

Chicken Asparagus

Chicken Breast in Herb Mustard Cream Sauce
Chicken Con Queso

Chicken Dijon

Chicken Paillard

Chicken Valdostana

Feta-Stuffed Chicken

Grilled Chicken Ceasar
Low-Fat Chicken and Broccoli Alfredo

Orange Chicken

Orange Duck
Paella for Two

Parmesan Crusted Chicken

Pollo Fajitas

Ranch Style Chicken

Smoked Duck with Horseradish Potato Salad

Southern Fried Chicken

Main Course - Fish
Baked Pesto Salmon

Baked Trout with Fresh Garden Herbs

Coriander Lime Shrimp
Crab Pot Stickers with Sesame-Ginger Dipping Sauce

Crawfish Sherry Sauce

Fish Fillets Stuffed with Spinach Pesto

Fish for Two

Fish in Foil

Fried Octopus
Halibut Italiana

Lemon-Dijon Fish

Light and Spicy Fish

Marinated Smoked Herring Fillets

Monkfish in Miso

Pan-Poached Alaskan Salmon Piccata

Red Mullet

Sea Bass Barbecue

Shrimp with Spinach and Alfredo Sauce

Spicy Garlic and Pepper Shrimp

Swordfish Kebobs

Thyme and Citrus Baked Salmon Filets

Main Course - Pasta
Bow Ties with Sausage, Tomatoes and Cream

Fettucini and Fresh Tomato Basil Sauce

Fettuccine with Shrimp Sauce

Fusilli with Shrimp, Tomatoes and Arugula

Japanese Somen Noodles
Lasagna

Lemon-Pepper Pasta and Chicken

Pasta and Quick Chicken

Tomato Fennel Pasta for Two
Two-Cheese Linguine

Stuffed Shells Marinara

Main Course - Pork
Asian Style Braised Ham Steak

Bourbon Filets

Braised Pork Chops with Cabbage

Hot Spicy Pork Chops

New England Clam Chowder

Polenta with Broccoli Rabe

Pork Tenderloin Stir Fry

Quick Ham and Beans for Two
Stuffed Pork Chops

Sukiyaki Pork Tenderloin

Cakes - Desserts
7-Up Pound Cake

Angel Pudding

Applesauce Parfaits

Apricot Poached Pears

Aunt Betty's Jelly Crepes

Butterscotch Haystacks

Chocolate Cake

Chocolate Mousse

Covered Strawberries

Fool-Proof Chocolate

Fresh Summer Fruit Salad

Fried Apple Rings

German Apple Pancake

Grilled Banana Split Sundae with Bittersweet Chocolate Sauce

Grilled Peaches and Berries

Hot Fudge Sundae Cake
Lemon Pudding Cake

Neiman Marcus $250 Cookies

Pineapple Mousse with Bananas

Pumpkin Cake Roll with Cream Cheese Filling

Pumpkin Orange Cake Roll

Snowcapped Cherry Nibbles

Sorbet in Phyllo with Fresh Raspberries

Strawberry Mango Cobbler
Trifle for Two

Vanilla Almond Cookies

Walnut Semolina Cake

Yau Gwok (Deep Fried Puffs)

Miscellaneous, Salads and Sandwiches

Antipasto Pasta Salad

Asian Pasta Salad

Bowtie Pasta Salad

Broiled Marinated Tofu Sandwich

Bulgur Salad

Cobb Salad Sandwich

Curried Chicken Salad

Enchanted Forest Salad

Garden Salad

Greek Potato Salad with Dried Tomatoes

Hawaiian French Toast

Lemon Chicken with Pita Triangles and Tomato Cucumber Salad

Light Salad

Mandarin Spinach Salad

Mexican Turkey Burgers

Mini Ham and Cheese Rolls

Nicoise Salad

Panzanella

Pita Pizza

Primavera Salad

Salmon Mousse Salad

Shrimp and Avocado Salad

Smoke Salmon Pizzas

South Pacific Salad

Spinach Salad with Orange and Sweet Potato

Tomato Mozzarella Salad

Turkey and Cream Cheese Bagel Sandwich


Soups
Asparagus Soup with Red Pepper Sauce and Lump Crabmeat

Avocado Curry Soup

Cajun Crab Soup

Chicken-Corn Chowder with Thyme

Columbian Chicken Soup

French Onion Soup

Ginger Soup

Hamburger Vegetable Soup

Hot and Sour Thai Soup

Mushroom Soup

Oyster Soup

Spinach Potato Soup

Squash Soup

Taco Soup

Tortellini Soup

Turkey-Rice Soup

Turkey Wild Rice Soup

Vegetables
Asparagus with Mushrooms and Fresh Coriander

Bacon and Chive Potato Pancakes

Butter Lettuce with Blood Orange, Fennel and Cilantro Cumin Vinaigrette

Deep Fried Eggplant
French Green Beans

Fried Rice

Green Beans with Buttered Pecans

Grilled Peppers and Apples

Home Fried Potatoes

Hot Tomato Casserole

Loaded Baked Potatoes

Mediterranian Green Beans

Potato Galettes

Quick 'n Easy Salsa

Roasted Carrots

Scalloped Corn

Sesame Asparagus

Skillet Vegetable Quiche

Spinach with Pine Nuts and Raisins
Stuffed Potatoes

Sugar Snap Peas with Basil and Lemon

To submit your favorite recipes to be included in the Garden of Friendship Recipe Book, please email them to Barbiel
Background graphics made especially for the Recipes Committee of the Garden of Friendship by Valatine